Ah, it is finally the new year. I've given up making very definitive clear resolutions as it's my belief that good things tend to happen when you're working away. So with that in mind, going to simply wish that I get more done this year as 21 posts meant for a fairly successful 2010. Also, another wish would be to Stumble Upon some of my own work, although that would mean using that toolbar again. Which wouldn't be the best of ideas in my final year of college.
Either way, 2 quick drawings to put up. Just some practice caricatures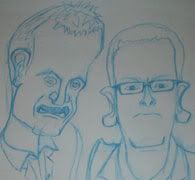 Dara O'Briain - Hugh Dennis & Frankie Boyle
UPDATE: 9th January
Didn't feel a need to make another blog post for this but I've drawn 3 more caricatures.
More comedians in the form of Andy Parsons, Russell Howard and Ross Noble.
Cheers and Happy New Year.
Kev Ryan